A Personal Magical Timeline
SIDE is the result of over 30 years of magical work and Left-hand Path initiation. The content published here is drawn directly from my magical journals which cover the majority of that span of time. As you can imagine I have a small library of personal grimoires (Over 20 of them).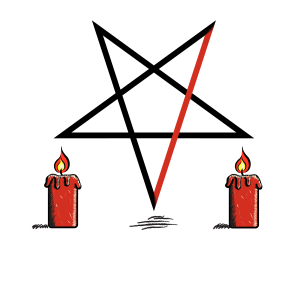 This whole Process is Very Strange to me
The decision to share my magical work with the world was not an easy one to make. I have always deeply valued my privacy. When I'm attending to something of great importance, I seek immediate solitude where I thrive and can think with greater clarity. The idea of opening my life, especially an aspect so deeply personal, is very out of character for me.
My immediate concern was the deeply personal nature of the information in many of my journals. They get very personal. Also they reveal my many magical failures, silly theories, and other embarrassments that have been a part of my journey which began when I was a child. Not everything in my magical journals is glamorous or cool. Some of it is decidedly humiliating. So I decided on a standard for creating the posts on this website. If the topic I am writing about has a significant failure tied to it; I will publish that in post, and won't hold back. If it is a silly idea or foolish area of exploration, I will publish that too. I am ok doing this because I think that by publishing a complete and honest record it will give my readers a more authentic connection to my work. It will also make the content more approachable and human.  Being a modern sorcerer isn't always glamorous or impressive. Sometimes it sucks. Sometimes it's devastating. This is true of any life, magical or not. I want to show this.
I made the final decision to go forward with this project for a number of reasons, most of them I will be keeping to myself. The reason I would like to mention: by publishing my experiences on this website, it ensures the immortality of my work and increases the lore surrounding it.  There are some interesting benefits to this.
Holy Shit People are Rude
When I first began creating posts that reflected my grimoire entries, the idea was to go in chronological order, starting with the beginning (the oldest) entries. I quickly changed my mind and decided that I would select randomly except where a series of related entries need to be kept together for context and canon.
I have learned recently that it will be important to note each post with the approximate point in time of the journal entries it is derived from. Failing to do this has caused me much grief recently.
This timeline was created to help add context to each post on this website by showing the approximate period in my life from which it is drawn, and a few of the themes of that timeframe that stand out to me. I have included very small slices of information related to my magical/initiatory work.
I hope this offers clarity about where I was in terms of progress and significant interests with respect to specific entries to the grimoire.